WE DO NOT DO GENERAL SERVICING

General servicing ( aircon service) typically uses a vacuum cleaner to remove dust (not mold) from the aircon surfaces and clear choke at the drain pipe, it is not effective in removing dirt, gel liked substances nor bad smell from the fan coil. The benefits of "general Servicing" is often overly stated. Claims that it helps to improve the air quality, prevent water dripping and prolong the life-span of the air conditioner is often an over statement. But i have to agree that it improves the air flow if your filters are dirty, which you can easily wash them yourself. While General serving cleans the aircon covers making them look cleaner and making you "feel good", you might already be falling sick from a bacteria infested air conditioner.
General Servicing is bad for health!
1. ChemJET cleaning
( from $250-350 each*)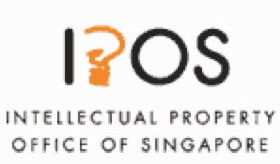 ChemJet is ASTIQUER's patent granted aircon cleaning method that uses high pressured water jet (1500psi)to flush the moldy blower and bacteria infested heat exchanger.

Note: Never attempt to vacuum or brush a moldy blower. Such action will dislodge mold and causing them to be airborne, once inhaled, it can trigger asthma attack or other breathing related syndrome. On top of that, mold cannot be totally removed by vacuuming nor by brushing. Therefore, the mold grows back very quickly, requiring another round of servicing in just matter of months.Once the circular fan is dismantled, it normally expose a very moldy back that hasn't been cleaned for a really long time. Now, with the blower out of the way, this moldy patch can be properly removed.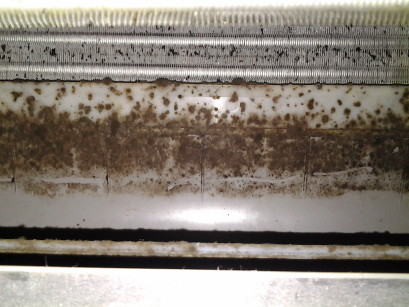 Picture of a moldy blower: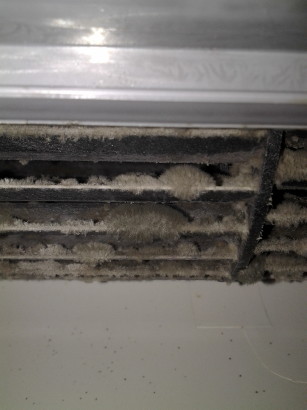 Picture of a moldy blower that has just been vacuumed: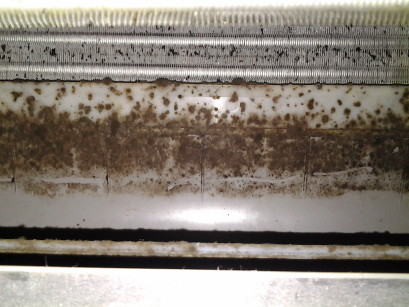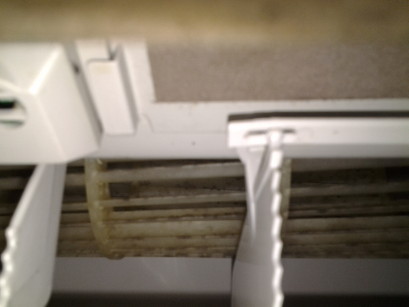 Most blowers are black in color and as such, mold that is not totally removed goes unnoticed. We have chosen to use a translucent color blower to highlight this mold problem. These mold that is not totally removed will grow and multiply very quickly.Using our method of cleaning, we can achieve this result: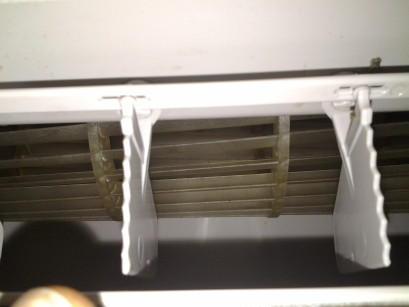 Astiquer's Patent granted cleaning method and spray head design allows high pressure cleaning from the inside of a fan coil, capable of achieving results surpassing a full dismantle chemical overhaul method.
3. Aircon Troubleshooting and Repair

Chemical cleaning.
Modification of condensate drain pipe.
Installation of external water pump.
Installation of miniature water pump.A value is required.Systematic troubleshooting of persistent aircon water dripping problem.Aircon cooling inefficiency problem.Replacement of faulty aircon fan motor.Replacement of faulty aircon compressor.Rebuilding of control circuitry logic for obsolete aircon models, replacement of faulty remote controllers and PCB.Power tripping problem caused by use of air conditioner (overloaded or earth leak?)Noisy aircon fan motor and a rattling condenser.
4. Assessment & Report (from $250)
*waived if assessment is fast (<15mins) and rectification work is carried out during the assessment service call, pricing of repair and servicing is transparent and published on our pricing page

Why should you be using our paid assessment service?
We are not selling new air conditioning system; we spend time properly troubleshooting your system rather taking it as an opportunity to quickly conclude your system is beyond repair and needs replacement.Often, your system is worth repairing but proper troubleshooting takes more time. Many components need to be properly inspected before concluding if your system is really worth repairing or not. Please note that Warranty for replacement parts is only applicable to that replacement part, not the entire system. You wouldn't like it when after replacing one item, there are few more in the queue.Because we are putting our assessment in black and white and we are responsible for our assessment and recommendations.Because we will be spending up to an hour troubleshooting, writing report and answering to you or any interested party's queries.Because we respect your time and ours too.
What is hidden in so-called FREE troubleshooting?

What is hidden in FREE troubleshooting?Very likely, FREE troubleshooting is an invitation for someone to come in trying to sell you a new system.You may end up having some quick fix solutions or get ripped off for expensive repairs.Some problems that may surface soon is not brought up to your attention.We had published as much information as possible on our website so that you can do basic troubleshooting yourself, or at least know what's causing problem to your air conditioner. Then you can check it against our published price list. Meaning, before you engage our service, hopefully, you will know what is to be expected. But if the information we've published is still not good enough, probably, it is not a very straight forward problem that you are facing and all the more you should engage our paid assessment service.